Huntsville Therapy and Counselling Services
Individual psychotherapy for teenagers and adults
"Therapy unlocks the power within us to understand ourselves and create meaningful change."
Joseph Hoyda, RP

Veritas Psychotherapy and Counselling | Huntsville, ON
Are you feeling stuck and unsure how to move forward?
We are here to help you find healing and relief from your struggles.  Joseph provides a safe, non-judgemental space for clients to explore difficult thoughts and emotions.  He believes that building a strong rapport is crucial for successful therapy, creating an environment that nurtures healing and transformation.
Joseph is dedicated to helping his clients live their best lives, and he can help you do the same.  If you are looking for Huntsville therapy or counselling services, contact us today to book your free phone consultation and start your journey to freedom.
"The curious paradox is that when I accept myself just as I am, then I can change." – Carl Rogers
VALUES AND APPROACH
Veritas is Latin for truth, which is a central value in our therapeutic approach. People have a tendency to mask what they are actually experiencing, subscribing instead to behaviour dictated by social norms. Over time, suppressed emotional suffering manifests itself in disorders such as anxiety, explosive anger, panic attacks, addiction, and depression.
While many modern therapies focus on treating surface symptoms, Veritas Psychotherapy and Counselling believes in getting to the root of the suffering to help clients gain insight so that they can truly grow, heal, and flourish.
Meet Joseph
Joseph is the primary therapist at Veritas Psychotherapy and Counselling. He is a Registered Psychotherapist and is currently completing his Doctorate in Clinical Psychology. He helps teenagers and adults who feel weighed down by anxiety, stress and depression.
Explore our Huntsville Counselling and Therapy Services
We understand that people are unique and have different needs when it comes to seeking therapy. That's why we offer a range of different forms of therapy, including group therapy, online therapy, and in-person therapy.
We believe that everyone should have access to the support and care they need to improve their mental health and well-being. By offering a range of therapy options, we hope to make it easier for people to find the help they need, no matter their situation or preferences.
Individual Therapy
Individual psychotherapy helps people overcome a variety of mental illnesses and emotional difficulties.  
Online Therapy
Online therapy allows people to receive the same quality therapy without having to travel to an office.  
Group Therapy
Meet with a therapist and a number of other clients on a regular basis to target specific issues.
Huntsville Therapy Clinic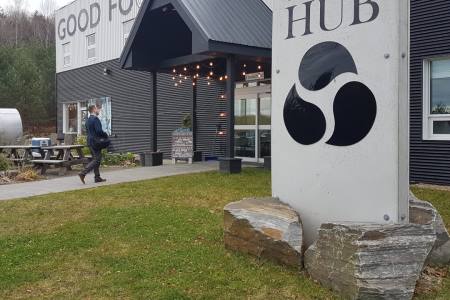 In-person sessions are provided at our office located at 1 Crescent Road in Huntsville, Ontario.  Online psychotherapy services are also available through a secure video platform.
Veritas offers potential clients a complimentary fifteen minute phone consultation. This is an opportunity for clients to ask questions, discuss current therapist availability, and determine if they and the therapist are a good fit for one another.
Psychotherapy can be helpful for a wide range of mental health conditions, such as depression, anxiety, bipolar disorder, and post-traumatic stress disorder (PTSD), as well as for individuals who are struggling with issues related to stress, relationships, or personal growth.
There are many benefits to psychotherapy, including:
Improving symptoms: Psychotherapy can help reduce the intensity and frequency of symptoms associated with mental health conditions, such as depressed mood, anxiety, or difficulty with impulse control.
Increasing coping skills: Psychotherapy can help individuals develop coping strategies and skills to manage their emotions, thoughts, and behaviors in healthy ways.
Improving relationships: Psychotherapy can help individuals improve their relationships with others by teaching them communication and conflict resolution skills, as well as helping them understand and address underlying issues that may be causing difficulties in their relationships.
Enhancing self-awareness: Psychotherapy can help individuals gain a deeper understanding of themselves, their motivations, and their patterns of thinking and behavior. This can lead to increased self-awareness and self-acceptance, which can be helpful for personal growth and development.
Promoting change: Psychotherapy can help individuals identify and work towards achieving personal goals and make positive changes in their lives.
Providing support: Psychotherapy can provide a safe and supportive environment where individuals can explore their thoughts and feelings and receive guidance and feedback from a trained professional.
Contact us for your free 15-minute consultation.